Among the three Bay Islands, Roatan is the most popular and the biggest one. Though you can do a lot of things during your Roatan sojourn, several visitors arrive just for a day. These visitors are usually passengers on cruise ships that originate from New Orleans, Houston, Miami, and Fort Lauderdale and make a pit stop in Roatan while traveling via different routes throughout the western Caribbean. But since most Roatan activities can be completed in a day if you plan them well, you don't need to be worried if you just have a day in Roatan and want to make it count. However, it's best to have a couple of days to enjoy your Roatan sojourn to the fullest without rushing from one destination or activity to another.
We've listed the top ten things in Roatan to do, which should make it somewhat easy to plan your tour itinerary.
1. Visit Little French Key
Little French Key is a coral paradise, one of the most exciting and picturesque places to visit in Roatan. Though it was once a private residence, it's now open to everyone. You can enjoy sunbathing on Little French Key's diamond white beaches, splash in the crystal clear water, go snorkeling to enjoy the coral reef, or indulge in other activities like horseback riding, kayaking, jet-skiing, and paddleboarding. You could even plan a trip to Mayatlantis, which is an underwater museum. Another activity worth a try is to embark on a monkeys and sloths tour at AJ's Monkeys and Sloths, near Little French Key, or at Daniel Johnson's animal sanctuary near the Big French Key entrance.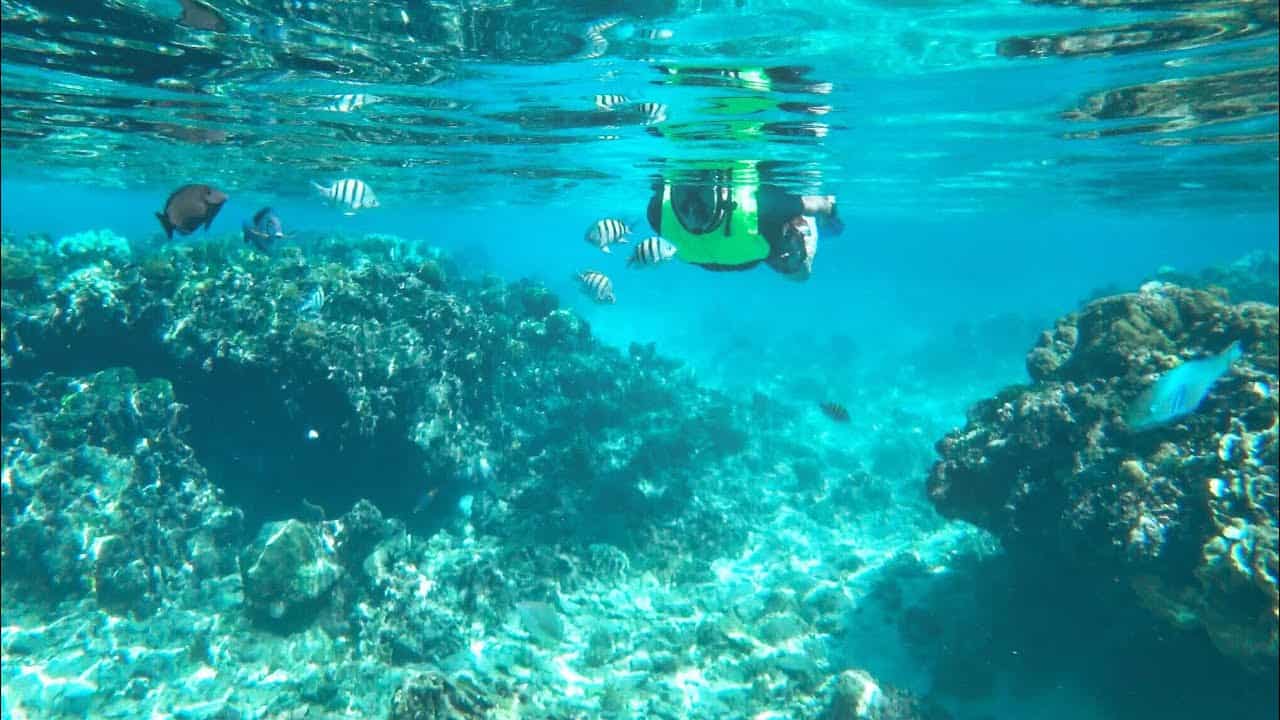 2. Go Snorkeling at West Bay and West End
Some beaches in and around Roatan are a paradise for snorkelers and scuba divers. If you're looking to enjoy snorkeling, you can head to West End and West Bay, both of which provide you with sheltered waters that are ideal for good snorkeling. West Bay, in particular, is a popular spot as it has calm and clear water, while the reef is just a couple of strokes away from the coast. As boat traffic is at a further distance, you can safely snorkel here. West Bay is the venue for annual freediving competitions, which is testimony to its world-class snorkeling options. However, this place is usually crowded due to its popularity, which means you would have company when you go snorkeling. But if you don't mind it, you can get set to see Roatan's reefs, which are part of the Mesoamerican Barrier Reef – the second largest coral reef system in the world. You'll also get the opportunity to observe squids, octopuses, lobsters, and other varieties of fishes from close quarters and get awed by an ocean packed with such mesmerizing diversity of marine life.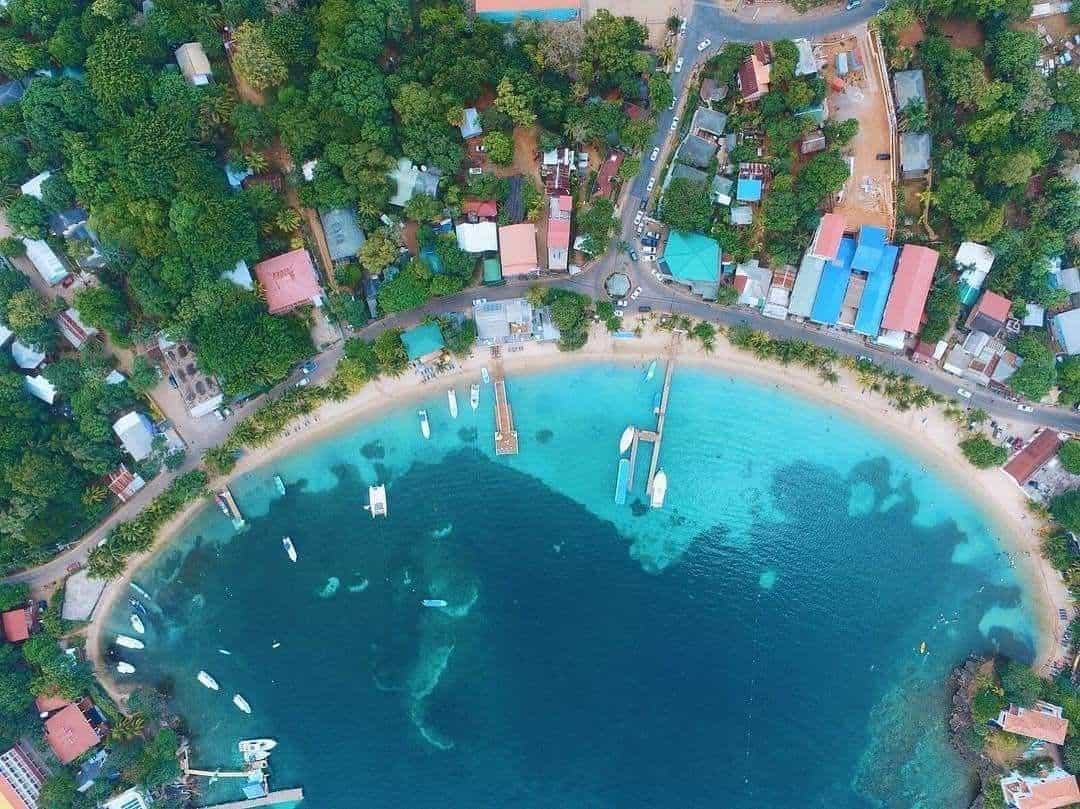 3. Set a Date with West End and Half Moon Bay Beach
Even if you aren't a snorkeling enthusiast, you should visit West End, a fun spot in Roatan. Emitting a small-town vibe, this place has restaurants that offer delectable local dishes, bars to quench your thirst, and gift shops and art studios like Waves of Art or Rusty's, where you can browse a variety of items to pick up some memorabilia. If you're a diving enthusiast, you could even check out some of the dive shops here. If not in the mood for any of these, you could simply laze on the powdery sand of Half Moon Bay Beach or go for a swim. Half Moon Bay is also ideal to go snorkeling or taking a ride on a glass-bottom boat.
4. Head to West Bay Beach
This is one of the world's top-rated beaches. It's always bustling and seems to be filled with joie de vivre. A wide variety of water sports and activities on offer here can keep you busy all day long. These include snorkeling, parasailing, and jet-skiing. You could even opt for private or custom fishing tours where you'll get to enjoy deep sea fishing with professionals. If you're lucky, you could even catch and release a Marlin! If you carry your swimsuit, you may even squeeze in a short swim between fishing for some fresh catches. Glass bottom boat tours from West Bay Beach are also worth trying as they'll let you appreciate the region's beautiful coral reef, where you'll experience the magnificent riot of colors and different species of fishes.
5. Visit Gumbalimba Park and Go Ziplining
At Gumbalimba Park – a popular family-friendly attraction, you can watch a variety of about 2500 preserved insects in an AC insectarium, marvel at colorful butterflies and flowers, spot indigenous iguanas and lizards along with watching over 200 vibrant tree and plant species as well as some free-flying exotic birds such as hummingbirds, parrots, and macaws. A big attraction is the zip lining tour at Gumbalimba Park's Monkey Trail Canopy, where you'll get to chose from 17 platforms with 13 stretches of cable made available, each of which measures 120 to 500 feet in length. With a zipline across a lagoon, this adventurous activity is sure to keep your adrenaline pumping!
6. Plan a Visit to Maya Key
This animal rescue center plays home to several colorful birds and exotic wildlife such as parrots, toucans, macaws, monkeys, and Honduras jungle cats like ocelots and jaguars. You can tour the Maya Key facility to watch all these birds and animals from close quarters, which have been rescued, donated, or injured. They're housed in a safe and comfortable setting to rehabilitate them, after which they're likely to be released back into the wild as soon as it's possible.
7. Savor Baleadas
When in Roatan, don't forget to savor the delicious baleadas, fresh tortillas filled with cheese and beans. Variants of baleadas are served with avocado, eggs, chicken, and meat, from which you can take your pick depending on what suits your palate the best. If you're in Roatan's West End, make sure to visit Calelulus that serves the best baleadas with meat, provided you love to enjoy their exquisite taste. Pair them with a refreshing glass of fruit smoothies, and you may be inclined to return soon to have another go at the baleadas and the smoothies.
8. Stop by Manawakie Eco Nature Park
If you thought it's a typical animal park, you'd realize how mistaken you are when you set foot inside this park. From interacting with sloths, capuchin monkeys, and other exotic animals to learning about several herbal medicinal plants from your guide while strolling through the botanical garden and taking in the breathtaking panoramic sights of the Man' O War Bay and reef, you'll have a lot to look forward to. Once you're done with these, you can head to the Wildcane House Museum for a brief history lesson of the island and its first inhabitants. You'll get to learn about different aspects of their life, such as how they built their homes, cooked their food, etc., and even know a little bit about their culture, among other things.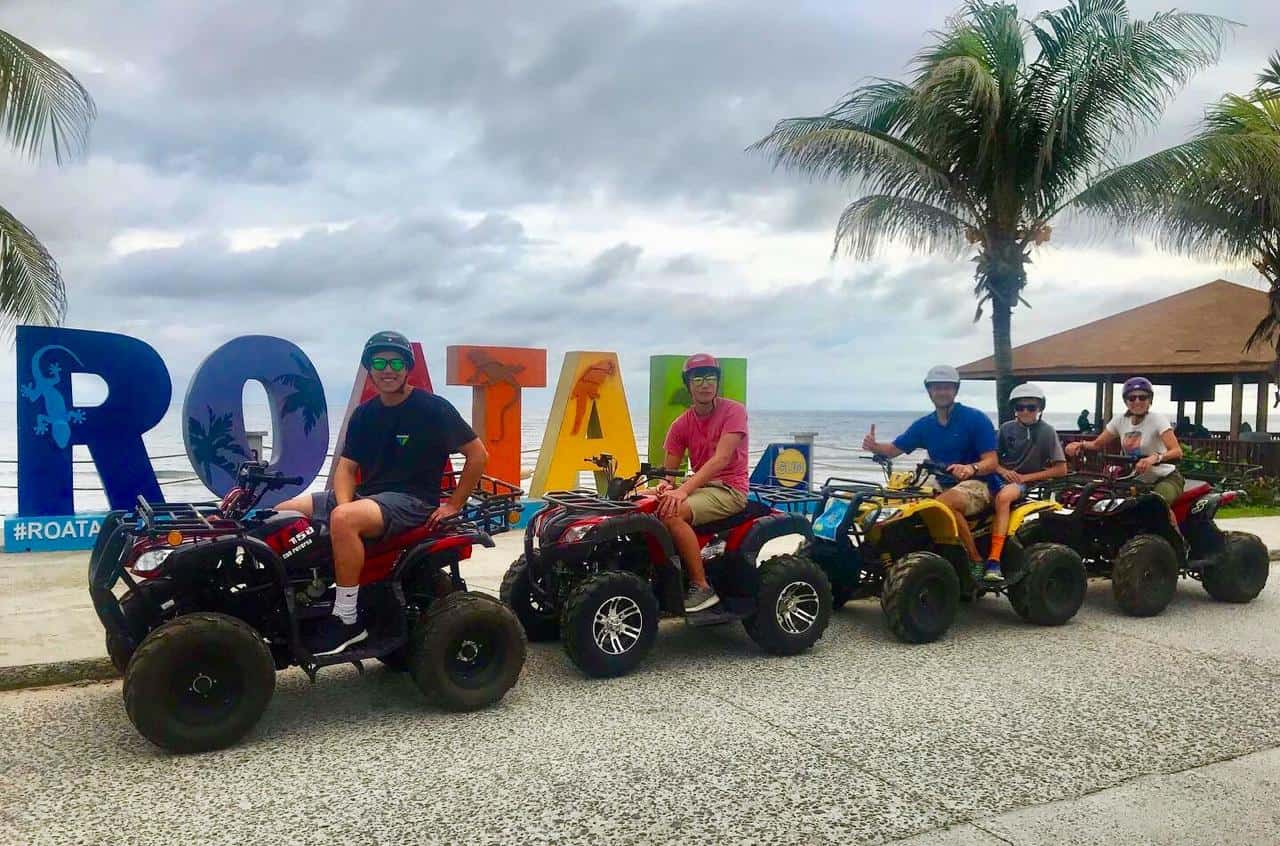 9. Ride an ATV for a Guided Tour of the Island
Even if you haven't taken an ATV ride before, you don't need to worry as these vehicles fitted with automatic transmissions are extremely easy to drive. And you'll get a couple of practice turns to familiarize yourself with the ATV. Before you start your ride, you'll even get a brief history lesson about the island's indigenous people. Then, you'll wear your safety gear, hop on your ATV, and embark on a guided tour of the island. Since risky maneuvers or speeding aren't a part of the ride, you can safely enjoy your ATV ride while exploring the island, which is sure to be an unmatched experience.
10. Explore the Island's Mangrove Tunnels at Jonesville
Roatan's mangroves are an important part of its diverse ecosystem. According to local legend, Jonesville's mangrove tunnels were carved out by pirates in their attempt to hide and safeguard their loot from rival pirates and the bad weather prevailing beyond the reef. Today, you can take a boat ride through these narrow mangrove tunnels to feel a chill (thinking about the pirates who took the same route) and even keep an eye out for fishes, birds, and other animals that these mangroves play host to.
Wrapping Up
To enjoy these top ten destinations and activities in Roatan, you'll need to find comfortable and safe accommodation options. Though you can squeeze some of these into a few hours if you have limited time on the island, you'll ideally need a few days of stay to enjoy all of them at your own pace without feeling rushed to strike them off your to-do list. Whether you need beachfront Caribbean villas in Lawson Rock, West Bay, or West End, prefer privately-owned luxury villa rentals in Roatan, or want some affordable accommodation options in Roatan, our experts can help. And if you need more information or advice about your Roatan tour planning or want to create a customized tour itinerary, reach out to us, and we would be happy to help.