AN INVESTORS GUIDE TO BUYING PROPERTY IN JAMAICA.
Jamaica is a select destination in the Caribbean, unique in its character and culture; it is unlike any other of the Caribbean Islands. Jamaica is in the middle of a housing boom, experiencing fantastic growth, which presents tremendous investment opportunities. 
Are you interested in buying a property in Jamaica but need help and guidance as to where the best places to buy property in Jamaica are? Do you need help with how to buy property in Jamaica as a foreign buyer? Are you looking for practical guidance on the buying process and how much taxes you will need to be mindful of? 
This guide will assist in answering all of those questions, and some you didn't think about. Enjoy your journey in understanding how to buy property in the paradise island of Jamaica. 
Table of Contents
OVERVIEW – THE JAMAICA REAL ESTATE MARKET
From white sands of the seven-mile beach in Negril to the serene lush green Blue Mountains, Jamaica is simply beautiful. The landscape is as varied as it's people. The Jamaica motto 'Out of Many One People' pays homage to the diversity of the people native to Jamaica. Chinese, African, Lebanese, Indian all call Jamaica home. 
Jamaica's unspoiled beaches, brilliant turquoise seas, cascading waterfalls, and dense mountainous ranges have made Jamaica the most popular destination in the Caribbean for honeymoons, weddings, and family vacations. In 2019 a record of 4 million visitors stopped over in Jamaica, which is located between the Dominican Republic and the Cayman Islands. 
Jamaica is home to many championship Golf courses, with elevated courses and beautiful scenic views, and with world-class restaurants and spas, there is something for everyone to enjoy.
The real estate market is well established, and there is a wide range of options available to the discerning buyer. Luxury and prestigious gated communities with million-dollar beachfront homes or hotel-condo resorts where you can take advantage of great hotel amenities and generate an income on your investment across the island from Montego Bay, Runaway Bay, Negril, St Anns Bay, Treasure Beach, and Portland.
CAN FOREIGN BUYERS BUY PROPERTY IN JAMAICA?
Definitely! Foreign buyers can buy property in Jamaica. There are not any restrictions on foreigners purchasing real estate in Jamaica. You will, however, have to apply for a Taxpayers Registration Number (TRN) to do so and comply with anti-money laundering regulations on proof of identity and prove the source of funds. Jamaica embraces foreign investment in the real estate market, and as a buyer, you will enjoy all the benefits of a Jamaican Citizen.
The Buying Process
The process for investing in jamaica real estate or buying a property in Jamaica is very straightforward and involves a few easy steps: 
Search for your property using a local realtor or check out all of our Jamaica Property Listings.
After viewing your property, you can make an offer.
Instruct a local Attorney at Law to handle your purchase. Caribbean Escape works closely with our local pane of Attorneys at Law to assist our clients in buying property in Jamaica. Legal Fees are typically 3% of the purchase price. 
After your offer is accepted, you should conduct a title search and a land survey to ascertain proof of ownership and clear title.
Your vendors' attorney will now prepare an Agreement for Sale (which you may know as a Sales Agreement or Contract). 
Upon signing the Agreement for Sale, you will usually pay a 10% deposit of the purchase price with the balance paid at completion. 
You are required to pay all taxes and fees. 
Buyers Fees & Taxes 
STAMP DUTY
Stamp Duty has recently been reduced in the Government of Jamaica's 2019 tax reforms and is now JMD 100 on purchases below JMD 500,000 and JMD$5,000 on property purchases over JMD 500,000. This stamp duty is split equally between the vendor and you, the buyer – i.e., JMD 2,500 each. 
TRANSFER TAX
Transfer Tax is also payable but is only paid by the vendor, which is 2% of the purchase price.
REGISTRATION FEE
There is a registration fee which, is 0.5% of the purchase price and is payable to the Registrar of Titles.
This fee is split equally between buyer and seller – You, the buyer 0.25%; vendor 0.25%.
LEGAL FEES
Legal Fees are typically 2% – 3% of the purchase price plus 15% General Consumption Tax (GCT) for acting on your behalf. We suggest using a local attorney at law and can point you in the right direction to our panel of local attorneys. 
PROPERTY TAX
Property tax payable is a nominal fee assessed on the unimproved land value.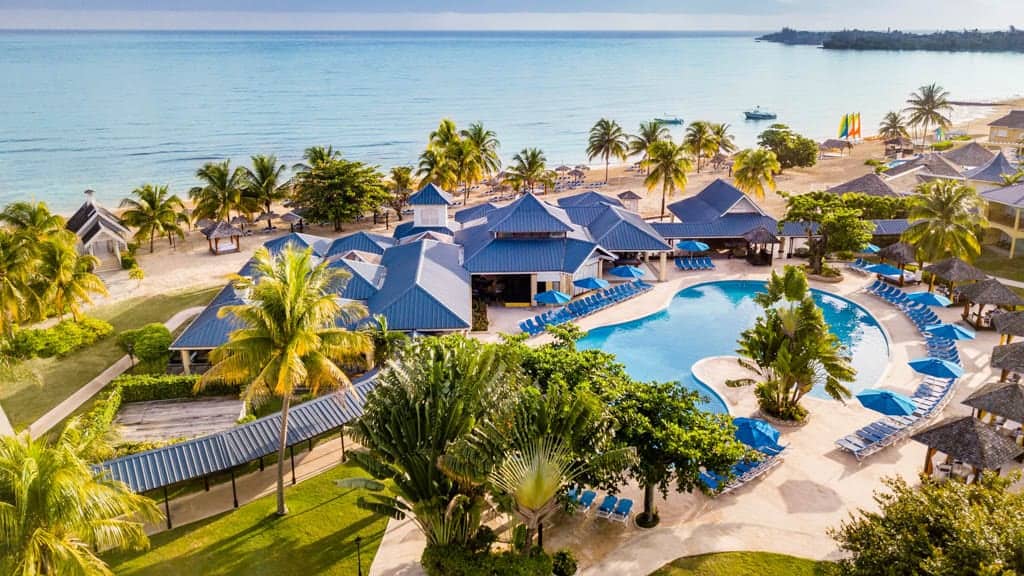 DISCOVER JAMAICA REAL ESTATE LISTINGS
We are experts in luxury Caribbean real estate and can offer you a diverse selection of the best residential and commercial property in Jamaica. We have luxury and affordable houses, villas, and homes for sale in Jamaica and apartments and condos for sale in Jamaica.
JAMAICA LAND FOR SALE
If you desire to build your dream villa, you can access our land for sale in Jamaica. Buying a plot of land enables you to build from scratch and create your perfect home. We have beachfront land for sale and land in the lush green cools hills for sale. If you are interested in purchasing large plots of land for hotel or commercial development, have a browse at our land for sale real estate listings. 
HOTELS FOR SALE IN JAMAICA
Are you searching for a hotel to buy in Jamaica? Register here for hotels, guest houses and Bed, and Breakfasts (B&Bs). 
FIND YOUR PERFECT PROPERTY FOR SALE IN JAMAICA
Search for your ideal property for sale in Jamaica by looking at our Jamaica real estate listings. We have fantastic investment opportunities, and you can access our unparalleled knowledge of the real estate marketplace. 
DISCOVER THE BEST SPOTS TO BUY PROPERTY IN JAMAICA
JAMAICA CITIZENSHIP & RESIDENCY 
HOW LONG CAN I STAY IN JAMAICA IF I AM A FOREIGN CITIZEN?
If you are a resident of the UK, EU, Canada, USA, you should check with your local immigration office. Still, if you are not a Jamaican citizen, you can usually stay in Jamaica on vacation without a visa for up to 3 months.
HOW DO I BECOME A RESIDENT OF JAMAICA?
If you are looking to stay longer than the three months in Jamaica, you can apply for an extension for up to 12 months to the Passport, Immigration and Citizenship Agency (PICA). 
Retired persons who are financially solvent, and of good character, can apply to PICA for permanent residency in Jamaica.
CAN I BECOME A CITIZEN OF JAMAICA?
You can apply for Jamaican citizenship by descent if:
You were born outside of Jamaica before the 6th August 1962 (Jamaica's Independence Day), and your mother or father became or would have, but for their death, become a citizen of Jamaica on the 6th August 1962.
You were born outside Jamaica after the 5th August 1962, and your mother or father at the date of their birth was a citizen of Jamaica by Birth, Descent, or Registration by marriage to a Jamaican.
You can apply for Jamaica citizenship by naturalization if you are over eighteen (18) years, and have lived in Jamaica for a minimum of five (5) years continuously and for the 12 months immediately preceding your application and, be of good character.
FUNDING YOUR PURCHASE WITH A MORTGAGE
Are you looking to source a mortgage to fund your purchase of a property in Jamaica? 
As a foreign national, you can apply for a mortgage to buy property in Jamaica. Our partner is an established local financial institution with offices in the UK, the USA, and Canada. It offers finance for non-residents looking to buy, build, or renovate a property in Jamaica. 
Contact us for further information. 
SENDING MONEY TO JAMAICA FOR YOUR PROPERTY PURCHASE
If you are looking to save some money when you buy property in Jamaica, you will need access to a foreign exchange specialist who will get you the best rate for your money. 
Contact us for further details. 
FLIGHTS TO JAMAICA
Jamaica has two international airports receiving flights from across the world. Norman Manley International Airport in Kingston and Sangster International Airport in Montego Bay.
Most flights from the USA, Canada, and the UK and Europe fly directly into either airport.
USA direct flights to Jamaica:
New York (Caribbean Airlines, Delta and JetBlue) 3 hours 55 mins
Atlanta (Delta) 2 hours 50 mins
Dallas and Miami (American Airlines) 3 hours 55 mins & 1 hour 40 mins
Charlotte and Philadelphia (US Airways)
Canada direct flights to Jamaica:
Toronto and Halifax (Air Canada) 4 hours 10 mins
UK direct flights to Jamaica:
London (British Airways and Virgin Atlantic) 9 hours 20 mins
SOME OF THE BEST REASONS TO INVEST IN JAMAICA
Stable property market with access to luxury and affordable vacation and second homes. Buyers and investors are typically from the USA, Canada, and Europe. 
Best Performing Stock Market in the World in 2018, according to Bloomberg.
High rental yields and the potential to generate considerable income from the tourist market as each year sees increased growth in tourist numbers. 2019 saw a record 4 million stopover visitors. 
Jamaica has many direct flights from the USA, Canada, and Europe into its international airports in Kingston and Montego Bay, making it one of the most accessible visitor destinations in the Caribbean. 
Massive foreign and local investment in projects designed to benefit the tourist industry and improve infrastructure. Massive transformative Investments are currently underway in Montego Bay, Ochio Rios, Negril, Kingston, Portland, Falmouth & Trelawny. 
Incredible natural beauty ranging from the serene Blue Mountains to the seven-mile white sand beaches of Negril to the infamous cascading Dunns River Falls and the Glistening Waters Luminous Lagoon, the world's only phosphorescent lagoon.
Established tourist market offers world-class facilities with Championship Golf Courses, Polo, Tennis, and Water Sports. 
Economic & political stability underpin a thriving economy and a diverse population. 
CARIBBEAN PROPERTY DEVELOPMENTS IN 2020
We showcase some of the best luxury Caribbean property developments coming onto the market in 2020. 
CARIBBEAN HOMES FOR SALE DIRECT BY THE OWNER 
Are you looking for the best Caribbean homes for sale and Caribbean villas for sale by owner? Register here
Luxury Jamaica Villas For Sale