There are several advantages to relocating to a Caribbean island: a pleasant environment, delectable cuisine, natural beauty, fascinating culture, a slower-paced lifestyle, and, of course, welcoming people.
However, for many island seekers confronted with whether or not to relocate, the cost of living on the Island is the most critical factor.
The cost of living in the Caribbean islands is a topic that rarely gets covered in detail.
We hopefully can help you out with our guide below, making you fully equipped before you take that leap into a new life on your dream Island. We will aim to clarify how much it will cost to rent or buy a property, eat, drink and enjoy all the activities that the Caribbean has to offer.
Contributing Factors to the Cost of Living in the Caribbean
It's essential to consider the everyday activities that make up your life when determining the cost of living in the Caribbean islands.
Food, utilities, taxes, rent, transportation, and entertainment are the most important expenditures for most individuals.
However, the cost of these can differ significantly depending on which Country you relocate to and which specific Island you choose.
If you live on one of the Bahamas' more remote island chains, for example, grocery shopping may get more expensive because items need to be delivered by plane or boat, and there are no local markets to speak of. However, this may be hugely compensated by paying less in rent.
Renting and Buying Property
You can find affordable Caribbean real estate throughout the entire region, but whether you are looking to buy or rent will make a massive difference in the best location.
Islands like Jamaica, Aruba, Dominican Republic, Mexico, Belize, and Honduras all have some of the most affordable properties to buy or rent. You can easily find one-bedroom places to rent in these areas from $800-$1000, and if you can go a little further, you may even find them in some beachfront locations.
In comparison, some of the more expensive properties can be found in Barbados, Turks and Caicos, and the Cayman Islands.
However, it's important not to be put off by the initial price of properties in these locations, especially if you are looking to buy.
Turks and Caicos is a tax-neutral jurisdiction, meaning there is no annual property tax for homeowners, along with no income tax or capital gains tax. The Cayman Islands also has no taxation of part or full-time residents.
Therefore it would make for a far better investment to buy properties in these locations, especially if you are looking for a permanent relocation.

Utilities
Electricity, water, gas, and telecommunication bills can vary depending on where you are residing. Another vital utility you might need to consider as a necessity is air conditioning unless you like waking up drenched in sweat.
You'll need to do a bit of further research based on the Island you are looking to relocate to, as most Caribbean islands may have higher utility costs than you'd expect.
Essential utilities in the U.S. Virgin Islands, the Bahamas, Jamaica, and Curacao are among the most expensive, ranging from around $200 to $350 per month for a small apartment. These are obviously amplified in a property of a larger size. Also, if you use air conditioning and water a lot, they could be even higher.
The cheapest cost of living in the Caribbean when it comes to utilities are the Dominican Republic, Costa Rica, Belize, and Panama.
Food & Drink
Most food items you find at the grocery store arrive by plane or ship, and delivery was not free. This can lead to a bit of a surprise when it comes to grocery shopping, especially if you want to include some exotic produce.
In most Caribbean islands, milk, eggs, and chicken are more expensive than in the United States. However, islands like Grenada, St. Lucia, Jamaica, and the Dominican Republic have the lowest prices in the Caribbean.
If you live near numerous fruit and vegetable stands on the roadside, you'll be better off buying from them.
When it comes to finer things, such as beer, wine, and cigarettes, these are all significantly less expensive in the islands than in the United States.
Turks and Caicos and the Bahamas are more expensive for food and drink, but they do have a more extensive choice of imported goods that are easier to come by. If there's anything, you can't do without, living on those islands will make your stay more enjoyable.
On average, a two-adult household spends around $600 per month on food. If you enjoy a nice glass of wine now and then, the price will go up.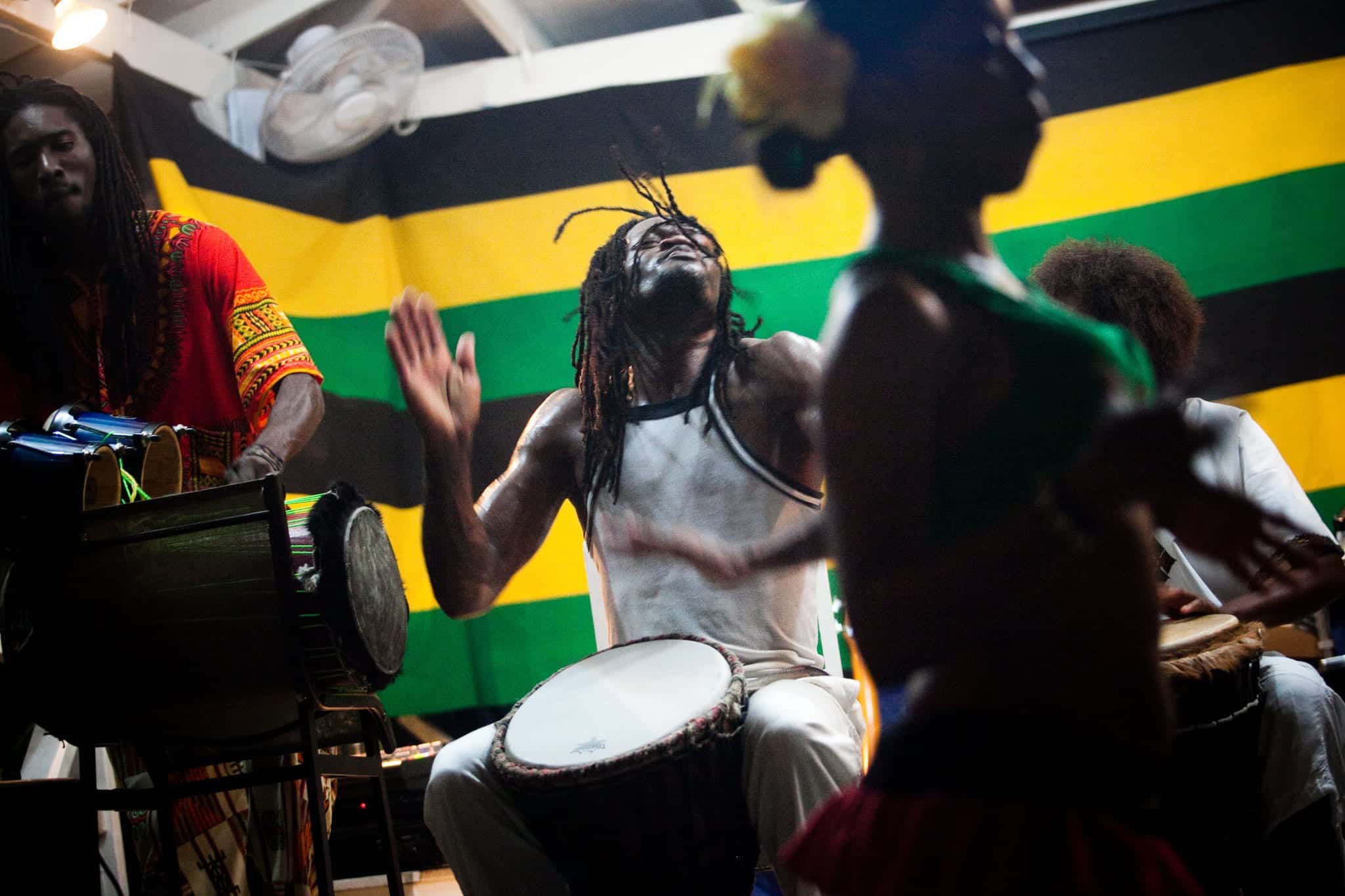 Restaurants & Entertainment
In Grenada, a McDonald's combo meal will set you back no more than $4 as opposed to the neighboring countries of the Dominican Republic ($7), Cayman Islands ($10), and Turks and Caicos Islands (£15).
However, prices won't always match up that way. For example, in Turks and Caicos, eating at an inexpensive restaurant only costs roughly $20 USD.

Lowest Cost of Living Caribbean Islands
The Dominican Republic
In the Dominican Republic, living is less expensive than in the United States, Canada, and Europe.
They have special programs for retirees to fast-track permanent residency and affordable Caribbean real estate that is not too difficult to purchase.
They also offer various programs for retirees to expedite permanent residency and have easy-to-purchase affordable Caribbean real estate.
You can also easily fill your days with snorkeling, sailing, diving, and much more.
Roatan & Honduras
Roatan's laid-back island community offers modern comforts with a relaxing vibe.
You'll love the sea and all the views you can take in with little tourist congestion when you live here, which is a quiet haven for many ex-pat communities.
You may only buy real estate bigger than 72 acres as a resident. However, it is straightforward to become a resident of Honduras Roatan.
Belize
Explore the Belize barrier reef or stay in Ambergris Caye, a tropical island paradise with clear waterfalls and enough white sand to last a lifetime.
If you prefer mainland living then Belize city has plenty to offer.
Foreigners will have no trouble purchasing inexpensive real estate or obtaining residency in a country with a flat tax rate of 25%. Still, electricity and food costs are relatively high, even if the cost of living is relatively low.
Summary
The cost of living in the Caribbean is difficult to determine since it varies based on your desired lifestyle, whether you are on a fixed income and which type of Island you prefer to reside in.
Whether you're looking for a peaceful, scenic retreat or the chance to participate in adventure sports, do some island hopping and enjoy fantastic cuisine – there's something for everyone to like about Caribbean island life. Just about every location will be less expensive than coming from North America or Europe.