Jamaica has something for travelers from all walks of life. Whether you want to spend the holiday laying on the gorgeous white sandy beaches and enjoying Jamaican rum punch or plan to indulge in some amazing activities, you can do all these and much more to your heart's content. If the pandemic has taken a toll on your spirits and you're desperately looking for a break, heading to Jamaica could be just what you need to lift your spirits up. With mesmerizing sights and sounds along with a wide variety of cool activities that will give flight to your imagination, Jamaica is sure to wipe out your sorrows and sadness. If you prefer to take resort in music that's known to soothe the soul, the land of dancehall and Reggae music will comfort you for sure!
With its varied bouquet of sights, sounds, and activities to keep you entertained and hooked, it's no wonder why Jamaica is often considered to be the mother of all Caribbean islands. Apart from being one of the biggest islands in the region, Jamaica has also influenced almost every aspect of the culture of the neighbouring smaller islands – right from the language and music to the food and even more.
Since Jamaica has a lot to offer to the tourists, you may feel baffled when deciding what your tour itinerary should include. To make your job easier, we bring you the top five things to do in Jamaica that will surely make your sojourn an interesting one. If you're ready for an incredible Jamaican adventure and look forward to creating some incredible memories, including some or all of these things would ensure your stay in Jamaica is worth it!
Ready to get started? Let's take a look at what you can do while vacationing in this mesmerizing Caribbean island!
1. Visit the Blue Hole
Located near Ocho Rios, this is one of the most popular water attractions in Jamaica, especially if you love a bit of adventure and an adrenaline rush. Also called the Cool Blue Hole, it's a series of limestone sinkholes that have been created naturally along with a deep cavern sitting pretty amidst the tropical Jamaican mountains. If you're wondering what the story is behind the name of the Blue Hole, it's attributed to the water's deep azure hue.
The most comfortable and quickest way to reach the Blue Hole from Ocho Rios is to hire a car, preferably with a driver who's been to the place before. Since there are almost no signs to direct you to the place, you'll have to rely on the people you meet en route to reach the place, which is about a 3-minute drive from Ocho Rios. Remember – being driven by an inexperienced driver could make you miss the right route to the Blue Hole. So, it's preferable to ensure your driver knows the route and has been there before. Once you reach the Blue Hole, you should ideally hire a guide, who'll direct you through the place and ensure your jumps are safe. Your guide could even click pictures of your activities, which would serve as cool memorabilia of your fun-filled time at the Blue Hole.
After you park your car at the designated place, you should don your swimsuits and water shoes and walk a few steps down a pathway to get mesmerized by the azure and calming water. The breathtaking view of pools of beautiful azure water surrounded by lush vegetation and rocks is Instagram-worthy for sure!
Let your guide direct you to the edge of the rocks where it's safe to jump from. Then, take a dive straightaway to get into the refreshing natural pools of water. You could even swing on ropes before jumping into the deep turquoise pools to feel an adrenaline rush. Don't miss swimming across to a huge, cascading waterfall or exploring the underwater caves and tunnels.
The spellbinding views surrounding the Blue Hole are an experience in themselves. Be it a hike through the lush green rainforest, or simply standing at the top of the waterfall to take in the view of the white rapids that merge with the azure water below, you're sure to feel all your worries, sadness, and anxiety melting away. You could even go river tubing down the White River before visiting the Blue Hole to make the level of excitement go up a few notches.
So, come experience a little Jamaican thrill and adventure by visiting the Blue Hole and soak in the magical natural experience that the place has to offer.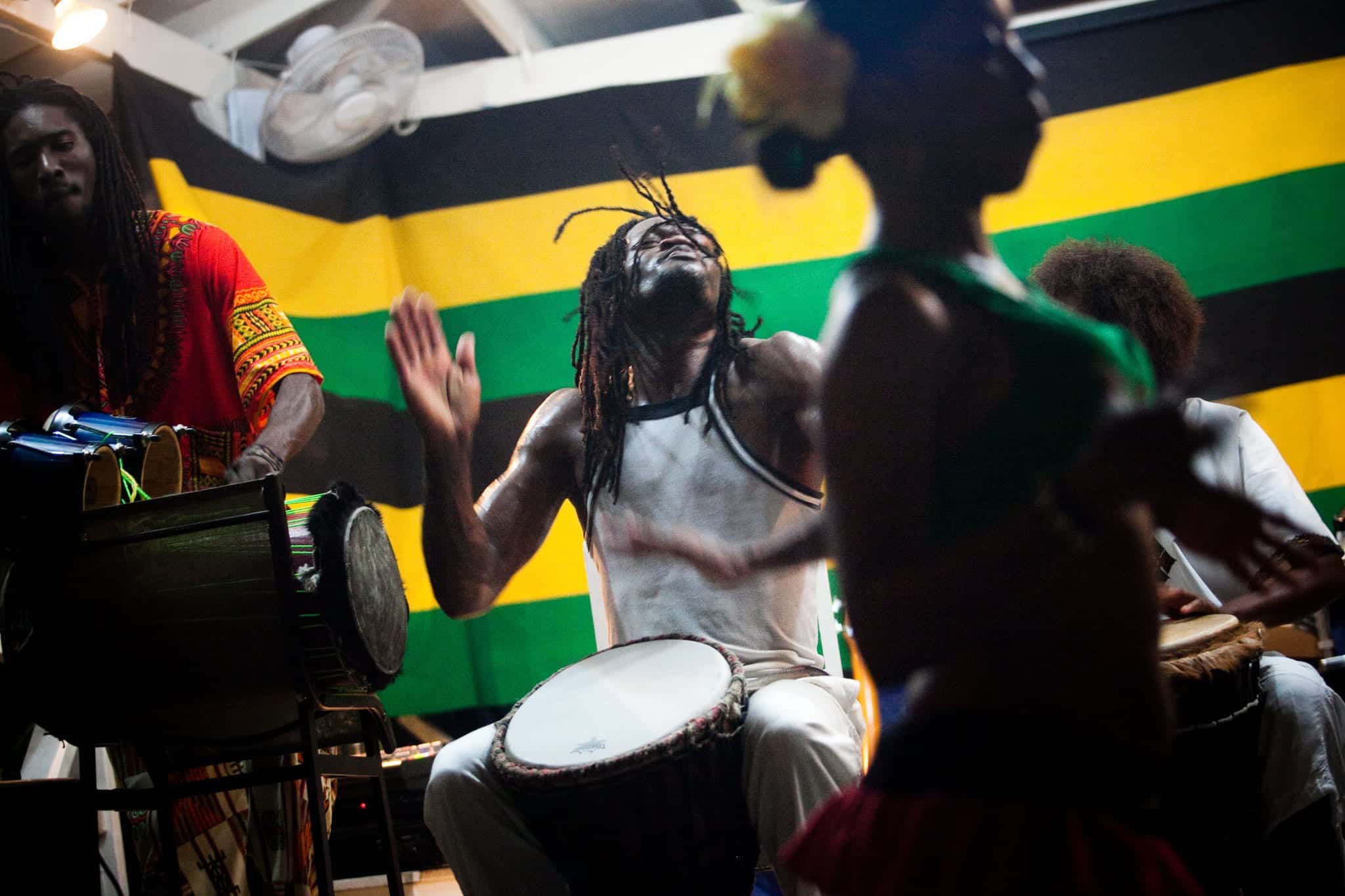 2. Enjoy live Reggae music
Though you can experience Reggae music all across the world, hearing it in its birthplace is something unparalleled. It won't be an exaggeration to call reggae Jamaica's soul. Perhaps that's why Jamaica is synonymous with reggae for many. Montego Bay is one of the most favourite places among locals and tourists alike to enjoy top reggae acts.
Friday reggae nights at Montego Bay's Pier One – an open-air restaurant is something you should never miss. You can have some delectable premium seafood and strong drinks for company while enjoying the most authentic reggae music. Apart from watching the beautiful night sky, you'll also get to take in the beautiful waterfront views that create the ideal setting to get lost in the heavy beats of the local reggae musicians. This place also hosts reggae concerts of international artists.
If you're a lady or have ladies in your group, there's free entry on offer before 11 p.m. But even if you miss the deadline, the cover charge is negligible, which means you don't have to worry about burning a hole in your pocket to come here. However, be prepared to stay late as the place fills up by that time and the party starts kicking. Ideally, you should time your visit to Pier One at late night or plan for a long night out. This way, your wait-time would be lower as the reggae music party ups the ante. Since the party often goes on until early morning, planning for it would let you enjoy it to the fullest.
Rick's Café in Negril is another place to head to if your heart itches for music that's central to Jamaican culture. Located on the West End Road, Rick's Café is perched atop a 35-foot high cliff. Its location makes this café the ideal vantage point from where you can enjoy the stunning Jamaican sunset when the sky becomes awash with orange, crimson, and purple hues. With the café's live band belting out reggae music in the background, the setting may seem dream-like where you feel one with the music genre that's proudly called Jamaica's heartbeat. And if you're a daredevil at heart, you could join the locals who often dive off the cliffs into the clear waters below.
Reggae music is synonymous with both celebration and hardship. In Negril, another place you can visit to enjoy reggae music is Bourbon Beach, which is located at Norman Manley Boulevard that's right on the beachfront of Seven Mile Beach. It's just 2 km from the heart of Negril and continuously features the region's budding reggae talent along with some of Jamaica's leading superstars.
In Negril, the picturesque stage of Alfred's Ocean Palace is also worth a visit. Positioned on the Seven Mile Beach, this place plays host to home-grown reggae talent who'll entertain you for sure through their live entertainment programs. You can either sit back with a glass of delicious rum punch or dance all your blues away on the sand as the musical tunes fill the air and your soul.
3. Live the beach life
Jamaica boasts of some of the most spectacular beaches in the world – from Seven Mile Beach in Negril and Boston Beach in Port Antonio to Doctor's Cave Beach in Montego Bay. Whether you want to go kayaking, snorkelling, or participate in other water sports in the quiet waves, or enjoy your stay in an adults-only beach resort while tasting Jamaican specialties, you can do it all. If you're looking for a beach vacation in Jamaica, here are some beaches that you simply can't miss.
Most people start their Jamaican beach vacation from Negril and you should too. Negril's Seven Mile Beach is the most popular, the most magnificent, and the longest among all other Jamaican beaches. However, despite its name, this beach is just a 4-mile long stretch with the rest 3 miles extending into Bloody Bay. The picturesque Seven Mile Beach was once ruled by pirates. But those days are long gone as its shallow water as well as the long stretches of white sand make up the welcoming setting where tourists from far and wide come to enjoy their beach vacation. Whether you want to stroll on the beach and feel the sand move beneath your feet or simply sit under the shade of swaying palm trees to enjoy the mesmerizing ambiance, you can do all that here. Since the beach seems to stretch out miles ahead of you, you're sure to have a slice of this Jamaican paradise all to yourself no matter where you go, especially if it's afternoon. At most other times, the Seven Mile Beach is crowded with swimmers, sunbathers, and water sport enthusiasts. If you're in the mood for it, you too could take a swim into the calm and soothing water. Kayaking is another water sport you can indulge in while you're at this beach. You may even opt for sailboat rentals, snorkelling, scuba diving, paddle boarding, and water skiing if you would like to indulge in some adrenaline-pumping water sports or exciting water activities. Horseback riding is yet another activity that's available at this beach. And once you have had your fair share of excitement, make sure to savour some local seafood delicacies like grilled fresh lobster (seasonal) served with mouth-watering seasonings, or king crab, or grilled fish and conch, among others. Don't forget to pair these with Red Stripe beer – often called the Jamaican pride in a bottle.
If you're looking for a peaceful and purist beach vibe, Montego Bay's Doctor's Cave Beach with its golden sand is just what you need. With a favourable year-round climate, this tranquil and clean beach is ideal to laze around or even take a quick nap. If you would rather have an activity-filled day, you can take a glass-bottom boat ride to look at the area's rich coral and marine life from close quarters. Water sports enthusiasts can book themselves for snorkelling and kayaking tours.
The lagoon-style Frenchman's Cove in Port Antonio, Ocho Rios Bay Beach in Ocho Rios, Hellshire Beach close to Portmore, Boston Beach on the north coast, and Cornwall Beach in Montego Bay are some other Jamaican beaches worth exploring.
If you think your Jamaican sojourn shouldn't end without a heavy dose of spectacular sun-and-sand experiences, don't miss heading out to some of these beaches to create some memories of a lifetime.
4. Visit Bob Marley Museum
Pay tribute to one of the most popular sons of Jamaica and the musical legend Bob Marley. This museum situated at 56 Hope Road, Kingston, occupies Bob's former home and showcases his personal artefacts, memories, and treasured mementos.
There are three tours on offer to choose from. With the Bob Marley Home Tour, you can turn the clock back to walk through the home of Bob Marley – a reggae legend! As you enter the museum, you'll get engulfed by Bob's sights and sounds. The guided tour will let you walk through the grounds, which include the exhibition hall, main house, gift shops, theatre, and the One Love Café. For authenticity, all rooms have been kept just as they were when Bob lived here.  This museum displays a life-size 3D hologram of Marley from the 1978 One Love Peace Concert along with his personal recording studio, favourite clothing, bedroom, a wide variety of platinum and gold records that Marley received from all across the globe, his Grammy Lifetime Achievement Award, and the I-Threes which were the costumes donned by his back-up singers. At the air-conditioned theatre, you can enjoy some of Bob Marley's live performances that are showcased with the help of the contemporary state-of-the-art projection equipment. To savour Marley-inspired recipes and juices, you can head to the One Love Café. To pick up a couple of Bob Marley souvenirs, you should stop at the Bob Marley Gift Shop.
Another tour on offer is Bob Marley's "Making of the Music" where you'll get to tour the Tuff Gong recording studio and get an interactive look at the entire process involved in making records – right from the rehearsal stage until the release of the album. Get a chance to be edutained with the music-making intricacies of the Caribbean legend. The rehearsal room of this recording studio, which has helped many leading names in the global domain of music hone their skills, showcases the stage, microphones, drums, keyboards, control boards, and one of the grand pianos of Marley. Marley once purchased a tour transport truck and you can see and hear about it in his song "Ride Natty Ride" as you take this musical journey and look closer into the engineer's room, artiste's lounge, and the recording space in one of the largest live recording studios in the Caribbean. While touring this recording studio, you'll get to view photographs of Marley, his band, and his family to know more about them. As a testimony to Marley's fame, there are several photographs of him in the company of other global icons. An interesting aspect of this tour is the opportunity to discover first-hand the process of record making – from the original vinyl pebbles and acetate disc to the final pressed 45-rpm discs or the LP (long playing) records. You'll get to see the manual and automatic pressing equipment and find out how they function. And you can even buy a few of those vinyl records or compact discs for yourself or to gift others who prefer listening to some great reggae music in the comfort of their home.
To pay a tribute to Bob Marley and the golden age of reggae, you simply can't miss visiting the Bob Marley Museum. So, if you're ready to know one of the pioneers of reggae better and take a closer look into the various aspects of his musical career, make sure to set a date with the Bob Marley Museum.
5. Take a tour of Appleton Estate
While you'll find it truly difficult to miss the local rum punch, you can take an Appleton Estate rum tour to see one of the country's finest rum distilleries. Located in the Nassau Valley where it's bordered by densely forested limestone hills, the Appleton Estate has been producing and perfecting complex rums for more than 265 years. The region's topography and the tropical climate make Appleton Estate's products unlike any other. You can plan a day tour to the Appleton Estate from Ocho Rios, Negril, or Montego Bay. Being regarded as one of Jamaica's leading rum distilleries, a tour to this place would let you enjoy an unforgettable sensory experience where you'll get to see, touch, and taste some of the finest rums of the world. So, make sure to include a tour to the Appleton Estate where you'll discover the process of crafting exquisite Jamaican rums that will trigger a deeper appreciation for them in your heart.
Wrapping up
Vacationing in Jamaica is synonymous with enjoying your trip in the true-blue Caribbean style. The above-mentioned things are just a few of the many options this vibrant nation has to offer. By bringing you the perfect combination of a truckload of activities and massive world-class beaches, Jamaica has earned a special spot among the world's top tourist destinations.